News!
We are delighted to be preparing a new show for you!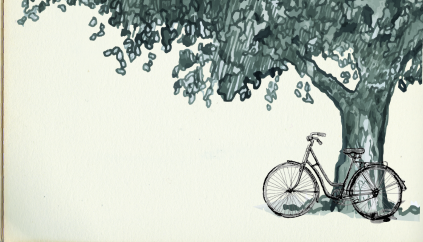 JRR Tolkien's Leaf By Niggle
will premiere at the
Edinburgh Festival Theatre Studio
from Thu 14 to Sat 16 Apr followed by Sat 23 Apr at Macrobert Arts Playhouse, Stirling and Fri 29 & Sat 30 Apr at
Tron Theatre, Glasgow.
Dates in May and June include:
Sun 8 May Howden Park, Livingston.
Fri 13 May The Kirkgate, Cockermouth.
Sat 14 May Brewery Arts, Kendall.
Fri 20 May Carnegie Hall, Dunfermline
Wed 25 May Theatre Royal, Dumfries
Thu 26 May CatStrand, New Galloway
Fri 3 Jun Eden Court, Inverness
Sat 4 Jun Woodend Barn, Banchory
Fri 10 Jun Eastgate Theatre, Peebles
Niggle is a painter. Not a very successful one, partly because he has so many other things to do. For some time he has been obsessed with one particular canvas - a curious picture of a tree with a vast landscape stretching out behind it. The painting keeps getting bigger and bigger, but Niggle has a journey to make ...
In 1939 Tolkien was despairing of ever bringing his great work The Lord of the Rings to a conclusion. One morning he woke up with the story Leaf by Niggle complete in his mind and wrote it down. This poignant story, about an artist on a curious journey, is often seen as an allegory of the writer's own creative process and life.
Surrounded by ladders, bicycles, easels and heirlooms, Richard Medrington (Jean from The Man Who Planted Trees) recounts Tolkien's miniature masterpiece, with a soundtrack composed by Karine Polwart and Michael John McCarthy.
Interview With Dog
Admittedly, these audience members were talking in 2008 about this being the one show you should see "this year" but we feel their enthusiasm for The Man Who Planted Trees still speaks volumes in terms of our 2013 run.