Teaching Resources
The Man Who Planted Trees presents a wonderful range of entry points for learning activities. Here are a few existing study guides to get you thinking and planning your own educational response to the show.
A) Teachers' Resources from The Arts Centre Melbourne's Performances Program. Stimulating ideas for pre-show preparation and post-show follow-up over many topics. Themes cover: Nature, Sustainability, Community Spirit, Relaying Information, Storytelling, and Theatre Arts. Designed to complement the Victorian Essential Learning Standards. Activity suggestions can be adapted by teachers to suit student levels. Written by Jack Migdalek.
B) House:Ed Resources from Sydney Opera House. Based on New South Wales Board of Studies Syllabi, particularly: English, Listening (language structures and features); Drama – Making, Performing, Appreciating (elements of drama, role); Human Society and its Environment: Relationship with places, Resource Systems. Includes an exercise involving creating an adaptation of 'The Lorax' by Dr Seuss.
C) Keynotes from the State Theatre New Jersey. A broad-ranging set of learning resources to help prepare students for the performance with links to a wide range of curricular areas. Written and designed by Lian Farrer. Edited by Katie Pyott and Jennifer Cunha.
D) Educator's Resource Guide from the Overture Center for the Arts in Madison, Wisconsin. Written and designed by Lauri Brenning. This well-thought-out pack includes pre- and post-performance activities as well as material with a science, environment, art and drama focus.
E) Study Guide from Paramount Academy for the Arts in Austin, Texas. Compiled by Jennifer Luck from Paramount's Education and Outreach Program.
Includes 'Understanding the World of the Play,' 'Puppet Theatre,' 'Object Theatre and Multi-Sensory Theatre,' 'Trees Telling Stories,' and information about planting trees from the Texas Forest Service.
F) We prepared some suggestions for classroom and outdoor follow-up work based on The Man Who Planted Trees a while ago. Although these were based on Scottish curricular headings which have changed a bit since then, it should give you some ideas wherever you're based.
1. Questions: Suggestions for Including 'The Man Who Planted Trees' in Science, People & Place, and People & Society
2. Themes: Personal and Social Development, Other Subjects (Art, Drama, Language, History), Curriculum for Excellence.
3. Resources: Ideas to get you planting, Eco Schools, Health Promoting Schools.
4. Visits: Ideas for local learning activities and visits; Trees, Cities, The World!
Also, our puppet maker Ailie prepared some templates and instructions for making multi-purpose, species-interchangable sock puppets. Is it a bird? Is it a dog? Is it a dinosaur? Over to you!
Materials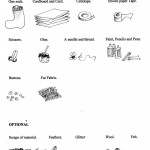 Dinosaur, Owl, Cat, Mouse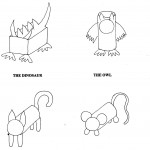 Making bodies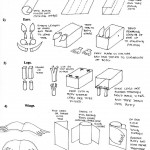 Tails, fins and markings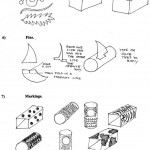 The head, the face, the eyes!