JRR Tolkien's 'Leaf by Niggle'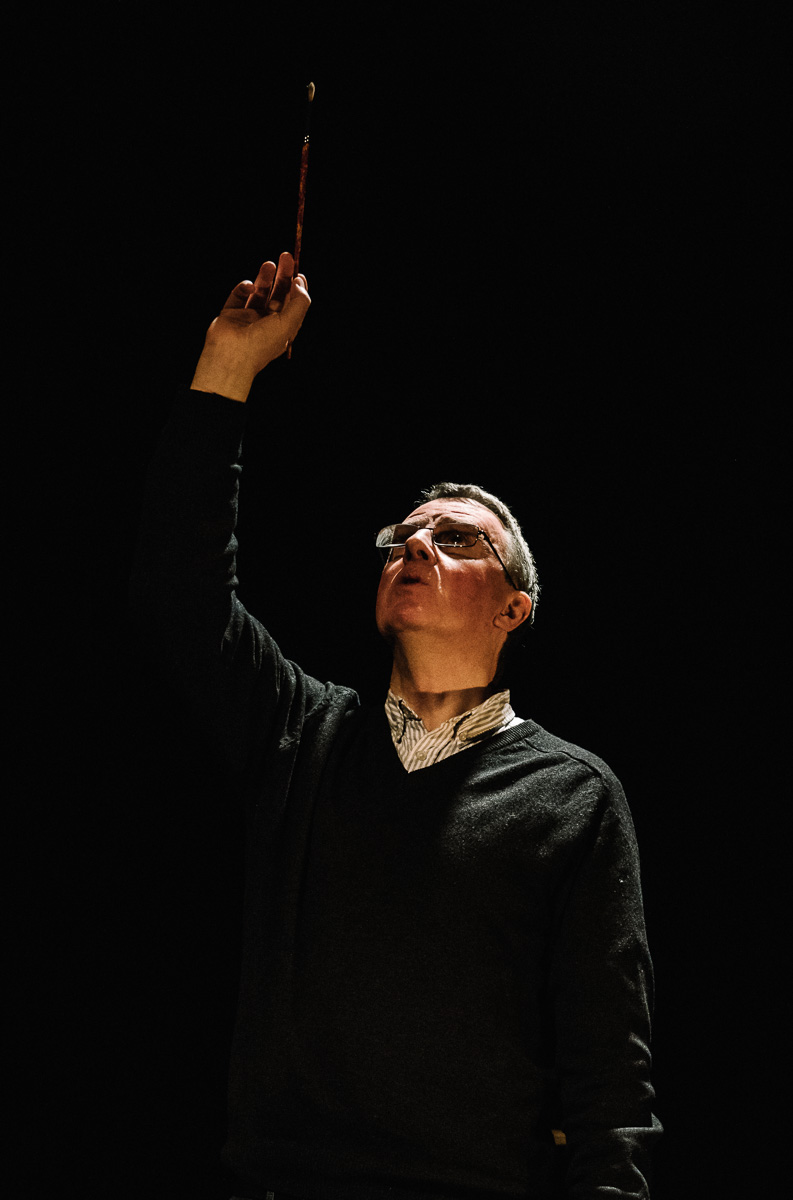 Our new show is reaching completion and we are excited to be sharing it with you. Here's a quick primer on the main what, when, who and why of it.
Leaf by what?
Yes we often have to repeat the name of the show. Leaf by Niggle is the same title as the short story we are telling. At one stage we thought we might call it Tree and Leaf after one of the books in which the short story has been published or even just Leaf. But we've opted for the orginal title because being faithful to the story seemed more important to us than having to say something twice.
Why haven't I heard of it before?
Some people light up when we mention that we've adapted this story for the stage because it's been a favourite story of theirs for years. But if you haven't heard of it, you're certainly not alone. Although it's by the 20th century's best-selling author, it's WAY less well known than many of Tolkien's other works, especially his worldwide blockbusting epic Lord of the Rings or The Hobbit. As well as being published in Tree and Leaf alongside a seminal essay by Tolkien "On Fairy Stories", it also appears in The Tolkien Reader, Poems and Stories, A Tolkien Miscellany, and Tales from the Perilous Realm. However, so far it hasn't been published as a book on its own.
What or who is Niggle?
Niggle is our protagonist. He's a painter. Not a very successful one, partly because he has so many other things to do – don't we all! For some time he has been obsessed with one particular canvas – a curious picture of a tree with a vast landscape stretching out behind it. The painting keeps getting bigger and bigger but Niggle has a journey to make. He doesn't want to go, but he cannot get out of it …
So Niggle is a human?
Yes. And so are the other characters in the story. There aren't any goblins or dragons or wizards but nonetheless the story has layers of magic in it.
What is it about?
On the one hand it's about Tolkien and his desperately long to-do list. But it's also about the creative process and our life's purpose, collaboration, neighbourly duties, distractions, the purpose of art for individuals and society. So it's not a matter of life and death? Well – it's kind of that too.
Who is it for?
We think there's relevance in it for all artists and for everybody. We expect that Tolkien fans and Tolkien avoiders alike will enjoy it. We're saying it's for adults and children over 10.
Is this a sequel to The Man Who Planted Trees?
Yes and no. It is the first new show we've done as Puppet State Theatre Company since we launched The Man Who Planted Trees back in 2006. Similarities: It's another stage adaptation of a short story by a well-known 20th century writer, written mainly for adult readers but aimed at a broad family audience. It has trees in it. Differences: Leaf by Niggle is a one-man show whereas The Man Who Planted Trees relies on two performers. Although objects and props have special significance in Leaf by Niggle, there are no puppets – and in particular no Dog.
Has Dog retired?
No! Dog has been keenly interested in the progress of this project and remains a healthy, happy working creature. The Man Who Planted Trees is still a big part of Puppet State's work and there are new tours in the pipeline that we'll let you know more about here in coming weeks and months.
Who have you been working with?
We've been pinching ourselves at the quality of the creative team we've been working with on this project.
Andy Cannon, writer, performer and professional storyteller, who was Creative Director Performance of the Glasgow 2014 Commonwealth Games Opening Ceremony, has been our marvellous and wise director and very directorial he looks here.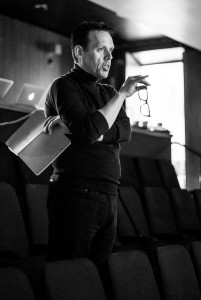 Sound skills have come from the great combination of the award-winning, spell-binding Karine Polwart with a gift for melodies that say just enough without overstating her case AND Cork-born, Glasgow-based composer, musician and songwriter Michael John McCarthy who has an impressive track record of making theatre shows sound just right.
Production manager, Gerron Stewart, when not creating and tending an orchard, is unflappably seeing to our technical needs. The production side of things is tenderly held under the wing of the wonderful Alice McGrath of Red Bridge Arts.
Janice Parker is bringing years of experience in choreography and movement to the subtle task tuning up a one-man storytelling show.
Another line of continuity between The Man Who Planted Trees and Leaf by Niggle is illustrator, puppet maker, performer and designer Ailie Cohen who is giving us design support with set and costume.
Alasdair Anderson has brought his ingenuity, intelligence and craftsmanship to some props making tasks, from the large, fiery welding end of things right down to fiddly, miniature, delicate stuff.
How long did it take to make?
Very good question! This is probably best answered in Richard Medrington's own words:
"I first read Leaf by Niggle in 1993 and was so taken with it that I approached the Tolkien Trust to see if they would allow me to adapt it as a puppet show. In the end they didn't feel puppets were a suitable medium for the story, but they gave permission back then for me to perform it once as a storytelling piece at the Carberry Festival. However I couldn't get the story out of my mind and in 2013 I decided to approach them again. This time they said yes! The story seems to offer different things each time I come to it, changing like the weather. Unlike most of Tolkien's stories, there are no wizards or elves, but it's a little bit magical all the same."
Where and when can we see it?
The first ever tour of this production begins with a premiere at the Festival Theatre, Edinburgh from 14-16 April and runs at venues across Scotland and Cumbria until 30th July. There will also be a run at the Edinburgh Festival Fringe in August 2011 which is part of the Made in Scotland showcase.
Thu 14 – Sat 16 Apr, Edinburgh Festival Theatre Studio.

Sat 23 Apr at Macrobert Arts Playhouse, Stirling.

Fri 29 & Sat 30 Apr at Tron Theatre, Glasgow.

Sun 8 May Howden Park, Livingston.

Fri 13 May The Kirkgate, Cockermouth.

Sat 14 May Brewery Arts, Kendall.

Wed 18 May Mull Theatre, Tobermory

Fri 20 May Carnegie Hall, Dunfermline

Wed 25 May Theatre Royal, Dumfries

Thu 26 May CatStrand, New Galloway

Fri 3 Jun Eden Court, Inverness

Sat 4 Jun Woodend Barn, Banchory

Fri 10 Jun Eastgate Theatre, Peebles

Sat 30 Jul Universal Hall, Findhorn

Full tour date listings and links to venue booking pages are on our Touring page.