Info for Venues
Puppet State Theatre Company present
JRR Tolkien'S
Leaf by Niggle
With soundtrack by Karine Polwart and MJ McCarthy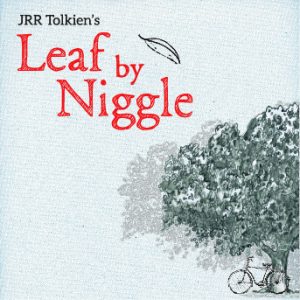 About the show
Niggle is a painter. Not a very successful one, partly because he has so many other things to do. For some time he has been obsessed with one particular canvas – a curious picture of a tree with a vast landscape stretching out behind it. The painting keeps getting bigger and bigger, but Niggle has a journey to make. He doesn't want to go, but he cannot get out of it…
In 1939 Tolkien was despairing of ever bringing his great work The Lord of the Rings to a conclusion. One morning he woke up with Leaf by Niggle complete in his mind and wrote it down.
Surrounded by ladders, bicycles and heirlooms, Richard Medrington (Jean from The Man Who Planted Trees) recounts Tolkien's miniature masterpiece, with soundtrack by Karine Polwart and MJ McCarthy.
"enchanting one man show' ★★★★ The Guardian
"intricately layered telling of Tolkien's short story." ★★★★ The Stage
The Audience for Leaf by Niggle
Leaf by Niggle is quite different from most of Tolkien's work in that it contains no magic, no elves or dragons. Puppet State use intimate storytelling, object animation, music and sound to bring the story to life. The production appeals to adults, students, young adults, and children from about the age of ten in theatres, libraries, book festivals and other community spaces.
Running time
75 minutes with no interval.
Creative team
Performer – Richard Medrington
Director – Andy Cannon
Sountrack – Karine Polwart & MJ McCarthy
Designer – Ailie Cohen
Company Management & Education – Elspeth Murray
Producer – Alice McGrath
Dates
The show will perform at the Edinburgh Festival Fringe as part of the Made in Scotland showcase from 4-28 August 2016 (Scottish Storytelling Centre, 5pm) and will be available to tour from 2017.
Further info and booking
Further info about Puppet State's work is available at https://www.puppetstate.com/
To note interest in booking Leaf by Niggle contact Alice McGrath: aliceamcgrath@gmail.com /
M: 07780 607665
Space requirements
Recommended for audiences of up to 200 and suitable for flexible touring including rural venues and libraries.
Online And Social Media
https://www.puppetstate.com/shows/leaf-by-niggle/
https://twitter.com/puppetstatethtr
https://www.facebook.com/puppetstate/
Leaf by Niggle reviews summary
"enchanting one man show" ★★★★ The Guardian
"intricately layered telling of Tolkien's short story." ★★★★ The Stage
"absence of orcs can't spoil this wizard show" ★★★★ The Times.
"an exceptional story teller … difficult to fault" ★★★★ Young Perspectives
"a simple but charming theatrical experience" ★★★★ The Reviews Hub
"rich and complex … universal and timeless" ★★★★ TV Bomb
"shines with style." ★★★★ Edinburgh Guide
"unhurried story-telling that brings a wistful charm to complex issues" ★★★★ The Herald
"vividly evocative soundscore by Karine Polwart and MJ McCarthy" ★★★★ The Herald
"a salve on the soul" ★★★★ The List
Show Images
Images can be downloaded from https://www.puppetstate.com/shows/leaf-by-niggle/image-downloads/
Technical summary
Stage Area Dimensions –
5x5m Masking on 3 sides
5 x 15A circuits stage left
4 x 15A circuits stage right
Lighting Requirements –
Pre-rigged lighting according to our LX plan
Puppet State Theatre will provide ETC Ion
Can be performed with simplified lighting in community venues
Sound requirements –
We run sound from a laptop running QLab
Touring Company 1 Performer, 1 Stage Manager