Teaching Resources
The Man Who Planted Trees presents a wonderful range of entry points for learning activities. Here are a few existing study guides to get you thinking and planning your own educational response to the show.
A) House:Ed Resources from Sydney Opera House. Based on New South Wales Board of Studies Syllabi, particularly: English, Listening (language structures and features); Drama – Making, Performing, Appreciating (elements of drama, role); Human Society and its Environment: Relationship with places, Resource Systems. Includes an exercise involving creating an adaptation of 'The Lorax' by Dr Seuss.
B) Study Guide from Paramount Academy for the Arts in Austin, Texas. Compiled by Jennifer Luck from Paramount's Education and Outreach Program.
Includes 'Understanding the World of the Play,' 'Puppet Theatre,' 'Object Theatre and Multi-Sensory Theatre,' 'Trees Telling Stories,' and information about planting trees from the Texas Forest Service.
C) Keynotes from State Theatre New Jersey. Compiled by Lian Farrer, Vice President for Education including 'Why Plant Trees?', 'Doing The Right Thing', and 'A World At War'.
D) We prepared some suggestions for classroom and outdoor follow-up work based on The Man Who Planted Trees a while ago. Although these were based on Scottish curricular headings which have changed a bit since then, it should give you some ideas wherever you're based.
1. Questions: Suggestions for Including 'The Man Who Planted Trees' in Science, People & Place, and People & Society
2. Themes: Personal and Social Development, Other Subjects (Art, Drama, Language, History), Curriculum for Excellence.
3. Resources: Ideas to get you planting, Eco Schools, Health Promoting Schools.
4. Visits: Ideas for local learning activities and visits; Trees, Cities, The World!
Also, our puppet maker Ailie prepared some templates and instructions for making multi-purpose, species-interchangable sock puppets. Is it a bird? Is it a dog? Is it a dinosaur? Over to you!
Materials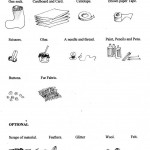 Dinosaur, Owl, Cat, Mouse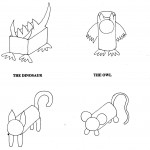 Making bodies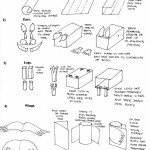 Tails, fins and markings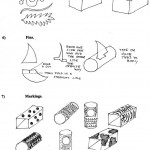 The head, the face, the eyes!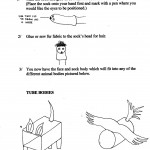 Finally, we recommend that you have a look at the excellent resources on Earth Day's Trees For The Earth campaign.
Our planet is losing over 15 billion trees each year or 48 football fields every minute! Leading up to their 50th anniversary, Earth Day Network plans to plant 7.8 billion trees by 2020: one tree for every person on the planet.
Find out more about the Billion Acts of Green
Reduce your ecological footprint by living more simply and responsibly.
Increase your ecological handprint by living more imaginatively and creatively!
Changing the world starts by changing your own little corner of it.