5 Post-Cards from Down Under All in a Wonderful Oner
Auckland Arts Festival
We performed in not one but two lovely venues, the Glen Eden Playhouse for our schools shows then at the Town Hall Concert Chamber for public performances at the weekend, including an extra show added on due to popular demand.
The Auckland Arts Festival was resplendent with pink posters, fluttering poetry flags and abuzz with memorable acts. We saw some great performances – notably I ♥ Alice ♥ I and Cantina – although our dates and times meant we couldn't see the other Scottish-based theatre shows Pondlife McGurk and The Strange Undoing of Prudencia Hart.
There are reviews from Auckland and beyond here. And we received some lovely feedback from the Auckland Steiner School and Glen Eden Primary.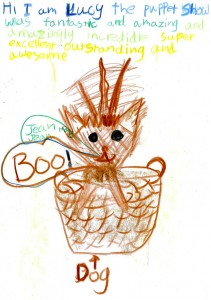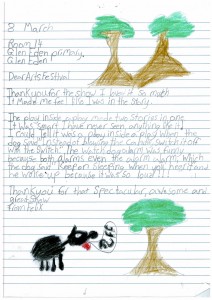 Capital E Festival, Wellington
An uncanny thing happened when we arrived in Wellington and were welcomed by Derek Simpson who drove us to our accommodation. Elspeth asked if he could turn the radio on just in case we heard the interview that Richard had done via Skype for Radio New Zealand. The very instant that he did so, we heard the presenter Lynn Freeman saying: "I spoke to Richard Medrington of Scotland's Puppet State Theatre Company." Here is that whole segment in which Lynn and Richard discuss where puppetry is at today.
Wellington is a beautiful city and the Capital E Festival makes great use of its many downtown, walkable arts venues to provide young people with a smorgasbordic moveable feast of live performances. We treated ourselves to as many other shows as we could – in particular the delightful Duck, Death and The Tulip – and also took advantage of the England-New Zealand test match at Basin Reserve and went to see Rodriguez, the songwriting legend and star of Oscar-winning documentary Searching for Sugar Man.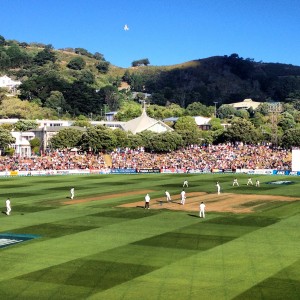 Thanks to Derek and the whole festival team as well as Rick's renowned clown friend Fraser Hooper for his ticky-tour to Scorching Bay and Wellington's resident whale expert and magician Anton Van Helden for his dumbfoundingly dazzling card tricks.
Castlemaine State Festival
How appropriate that John, our welcoming driver to bring us to the historic gold-mining town of Castlemaine for our French-smelling theatre show, has also been a guide on Aroma Tours specialising in the most aromatic sites of Provence.
And how lucky we were to be hosted by some of the town's friendliest arts-loving folk. Rick was hosted by Lynne while two doors down Elspeth and Richard were chez Ken and Lynda Pollock who are wine growers. Their Blackjack winery has a deservedly splendid reputation for their wonderful hearty shiraz. The harvest began the week we were there and we had a fascinating peep into the hard work of the plunging process.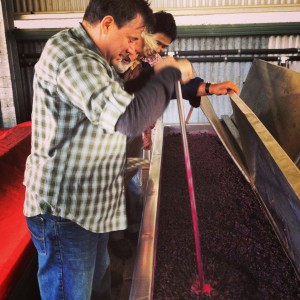 Our shows at the packed-out Phee Broadway Theatre went down amazingly well but perhaps our highlight of the week was giving an extra show at Ellery House the local hospice for an audience whose average age was in the late eighties. With hair as white as Old Elzeard's and eyes as twinkly as Dog's they were a really beautiful audience.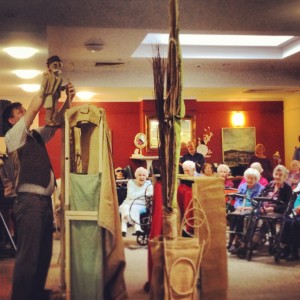 We had a lovely time reconnecting with puppetry friends Eliza-Jane Gilchrist and Mark Pencak who used to live in Edinburgh and now are Castlemaine locals – or 'blow-ins' as you're called if you've only lived here a generation or so. Their compact and bijou show Transplant was so captivating, transporting, intricate and funny. Thanks to Martin, Matt, Iggy, Coll, Callum, John and everyone who helped make for a really memorable week.
Sydney Opera House
If ever there's a time when we have pinched ourselves in disbelief at our good luck, this was it. (And the two weeks in 2010 when we were here as well, but too swept away to blog about it.) Going to work in the morning and walking towards this iconic building was a real privilege. Even the people who work there the whole time think so!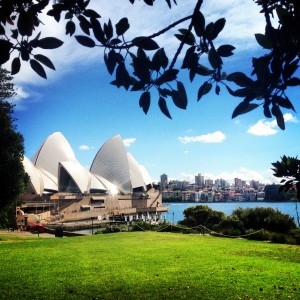 One bonus feature of our run was taking part in the Sydney Opera House's first live stream of a performance to multiple remote audiences. In addition to the audiences in the Studio Theatre, 500 pupils in 16 classrooms across New South Wales were able to watch the live stream and many of them also experienced the multi-sensory elements. Our ingenious puppet maker Ailie Cohen shared simplified design ideas for schools so children could make their own tree-shaped fans, flying birds and customised 'weather system' plant sprays. The live streamed shows came off with barely a hitch and we even managed to extend the post-show question and answer session to the remote audience too. We felt very honoured that our show was chosen to reach digitally beyond the sail-like walls of the Opera House.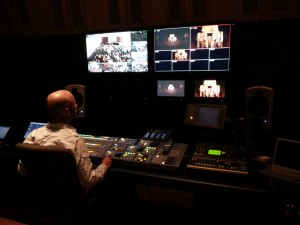 Some of our other performances had enhanced access by being audio-described for audience members with visual impairment and we enjoyed introducing the puppets to people in the pre-show touch tours.
In Sydney, we relished the opportunity, as we did back in Montreal last year, to connect with Agnes Durbet and Pauline Ramsey, the granddaughter and great granddaughter of Jean Giono.
And although we didn't like to mention it at the time, now that the UK seems to be edging out of winter, perhaps it's safe to admit that we had a little time off on Sydney's Northern Beaches back in March – Australia's late summer.
Arts Centre Melbourne
In 2010 we also performed here but it was called Melbourne Arts Centre back then and our performance space was smaller, squarer and darker than the wide, curved pink embrace that is the Fairfax Studio. Our public shows this time have been part of the Melbourne International Comedy Festival. One review even gave The Man Who Planted Trees "five stars for side-splitting comedy as a highlight of the MICF." Chief among our own Comedy Festival highlights are the constellation of shining stars who form The Chipolatas.
We had a very fitting partnership with Tree Project who handed out native seeds to our audiences – ones chosen to germinate well at this time of year and suitable for planting in gardens or contributing to the organisations wider land regeneration initiatives.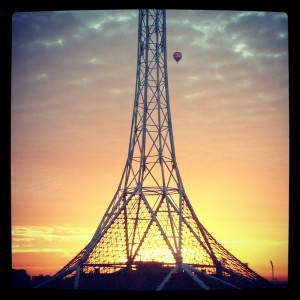 For many students, our education shows have been subsidised the First Call Fund while the experience in the theatre is enhanced by these excellent teacher resources. Several schools are also benefitting from interactive video editing workshops at the Digital Learning Hub as part of Arts Centre Melbourne's 'Sustainable Visions Digital Project'. At these sessions, students create a short video that illustrates their response to a discussion question such as: 'What would the world be like without trees?' or 'What would the world be like if animals could talk?'

After performing this show for almost seven years, it has been really encouraging to see the innovative ways that people continue to respond to the stimulus of Jean Giono's enriching story.
Here is a particularly heart-warming piece of feedback we received during the tour via our facebook page:
Just wanted to say thank you for The Man Who Planted Trees. I was in the audience (full of school kids!) on Wednesday morning, and I am still thinking about your beautiful show.
It has inspired me to think about my life's purpose, as I see those trees as the metaphor for the legacy we all leave behind. I want to encourage young people to engage with their imaginations, that is my forest! And one person (little by little) can make a difference.
Thank you for telling such an important story with integrity, tenderness and hilarity. It highlighted for me a simple truth in life: from little things, big things grow. X Sarah N Dippity
So, that's 52 performances over 7 weeks to 10,500 people. We'd like to say a very big thank you to ALL the lovely, talented and inspiring people we've met right across New Zealand and Australia for a truly memorable trip!